The Abetone, on holiday in Pistoia Mountains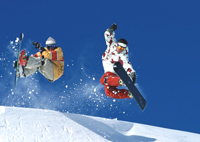 The Mountain pistoiese undertakes a wide area of territory north-west of Pistoia, characterized by high peaks up to 1945 meters above sea level. The resort's most fashionable winter territory of Pistoia is the common self dell'Abetone, famous ski resort but also summer resort, offers many opportunities to practice skiing, snowboarding and climbing in several sports facilities located in the area.
The name derives from the fact that during the construction of the road that connected the Grand Duchy of Tuscany with the Duchy of Modena was shot down a fir tree so large that it can not be embraced by six people, hence the name Abetone precisely.
The Abetone ski resort is the largest of views, with about 50 km of tracks and 30 tracks. The whole area is divided into three main areas:
The first area consists of two blue paths suitable for beginners and a red trail, suitable for everyone. These paths are connected by different forms and are served by two chairlifts, two-seater chair lift and a hull.
The second area includes the three most famous tracks and frequented dell'Abetone: the three Zeno, designed by the famous Zeno ski champion Col˛. These are three tracks suitable to all, simple and fun through the woods from a height of about 1820 meters until about 1300. The facilities are served by a cable car, a ski lift and two chair lifts.
The third area consists of three paths of easy and medium difficulty, served by three chairlifts to four seats and a two-seater chair lift. The Abetone is good for the tourist opportunity for winter sports in one of the most famous ski slopes dell'Appennino.
In the summer Abetone has distinguished itself for the possibility of summer sports. Tourists have the opportunity to practice trekking and interesting walks in the hills of the side of Mount elbow and Monte Cimone. Tourists can enjoy more experienced the wonderful climb to the Book Open, marking the border between Tuscany and Emilia Romagna. The Abetone is a very good center equipped for outdoor sports, mountain biking trips, tennis and soccer.
The content of the page is automatically translated.
Rate: 3.0 | Comments (0) | Write Comment