The Giostra dell'Orso in Pistoia - festivities and traditions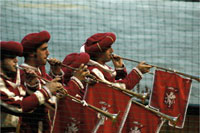 Tourists who chose to spend his holidays in Pistoia in July will certainly let dall'euforia carry the most important festival in the city: the Joust dell'Orso, a special ceremony that is mentioned even in a chronicle of 1300.
The festival draws to an ancient ceremony which was celebrated popular on March 10 of 1300 in fact, a dozen riders organized a ritual combat against a bear with him the heraldic emblem of the city. If despite many changes to the conduct of the race, this traditional ceremony was staged every year until 1666, when the abandonment was recorded by the ritual celebration of the people.
E 'only in 1947 that was taken, in a more human, and that takes place regularly on July 25 in honor of the patron Saint of the city Jacopo, giving spirit and vitality to Pistoiese July, the most playful and fun city.
The Feast
It begins with a parade made up of about 300 bearer, trombettieri, halberdiers, knights and other characters in costume, which begin the journey from Port Lucchese until you reach Piazza del Duomo. The square will provide the riders divided according to the districts of the city: Griffin, White Deer, Leondoro and Drago.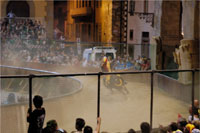 The Knights of the individual factions are divided in pairs and address breathtaking duels, giving the green light to a real whirl of emotions: the riders compete trying to hit two shapes of bears in the points which give more score. At the end of the evening will be awarded between the clang of the neighborhood people and the knight who have obtained the highest score.
The Giostra dell'Orso annually attracts hundreds of tourists from all part of Europe, as confirming the attractiveness of July Pistoiese. To attend the event, obtain tickets by contacting the regional tourist office at least one month in advance at the following numbers: 0573 216 22
The content of the page is automatically translated.
Rate: 3.0 | Comments (0) | Write Comment