Pistoia Montecatini Terme for tourists
Photo: Pistoia Montecatini Terme for tourists
Advertising
Holidays in Pistoia and environs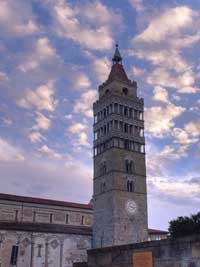 The territory pistoiese offers numerous opportunities for tourists who want to practice outdoor excursions during his vacation in Tuscany. Huge green spaces between the mountains and the hills of Pistoia and the river Ombrone that caresses the city of Pistoia in the west side suggested itineraries breathtaking.
The waters are home to numerous dell'Ombrone valuable fish species such as sea trout, and the Vairon scozzone. For the tourist who want to practice winter sports such as skiing, snowboarding or hiking tours can go in the area of 'Abetone Where there are numerous ski slopes for in its cheerful company vacation in the middle of snow. You can book your ski vacation in many hotels , Bed and breakfast and cozy bungalows and shelters , All equipped with excellent facilities and accompanied by a personal kind and always available.
Come on vacation in this beautiful province to say also choose to immerse themselves in a healthy environment where nature reigns unchallenged. Just think all'incanto dell'Appennino Pistoiese with its forests of beech, fir, chestnut and down the rolling hills covered with olive trees.
The settlement allows contact with nature in all its nuances and ensure sports can measure themselves in mountain sports, trekking and hiking, and for those seeking stronger emotions the opportunity to embark with paragliding.
For winter sports to Pistoiese Apennines offers more than 50 km of snow-covered slopes to the spring months, equipped with the most modern lifts such as cable cars, cable cars and chairlifts.
The Abetone together with the Monte Cimone and Corno alle Scale is the largest ski resort of Peninsular.
Addresses for tourists on holiday in Pistoia
Palazzo Fabroni
Via S. Andrea, Pistoia
Phone: 0573 371 214 / 371 279
Home-Studio Fernando Melani
Corso Gramsci 159, Pistoia
Phone: 0573 201 90
Pavilion Hemodialysis
Piazza del Carmine, Pistoia
Phone: 0573 352 040
Fattoria di Celle
Via Montalese 7 Santomato (PT)
Phone: 0573 479 907

The content of the page is automatically translated.
Rate: 2.8 | Comments (0) | Write Comment