Pistoia Montecatini Terme for tourists
Photo: Pistoia Montecatini Terme for tourists
Advertising
Holidays in Montecatini Terme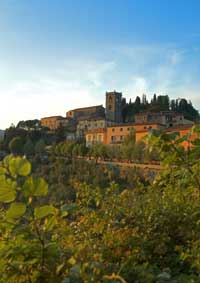 The town of Montecatini Terme enjoys international fame thanks to its calming tranquility and elegance. Tourists on holiday in Montecatini Terme can choose from a wide range of hotels , Bed and breakfast and residences of high-level immersed in the green Valdinievole or the anonymous villa that crowd the city, where time seems to stop to adjust the tourists wish to relax.
Montecatini concentrated in its historic center the highest expression of architecture typical of the twentieth century: a typical example is the Baths of Roof, with ceramic decorations and frescoes by Giulio Bargellini.
Between a street and another is easy to wonder so much beauty and class: Many major designers like Gucci and Ferrè have opened their numerous boutiques, a confirmation of elegance that reigns in the town.
For those arriving by train in Montecatini Terme a few minutes walk to reach the city center, consisting of the Thermal Park, where there are well-9 sulfur springs, each enclosed by its establishment. At the edge of the square at the park include the Baths Leopoldine, famous for therapeutic and beneficial properties of their mud and further north is the source Roof, discovered in the fourteenth century and valued by Leopold I in the eighteenth century alone: in it are many paintings New Art of French to give a decidedly transgressive normalized by the presence of a bar.
In front position than the source Roof is the source Regina, to mold more severe than the previous year.
To pass the leisure hours, tourists can go to the disco La Torretta, which draws many young people, especially in the summer months.
But the real surprise for tourists is the lovely cable car to Montecatini Alto, reached along Via Diaz and around the north side of the park. Once you reach the funicular Montecatini Alto, a natural setting of Montecatini to a hundred meters above the baths. From here tourists can enjoy beautiful landscapes, especially Monsummano .
We advise tourists on holiday in Montecatini Terme a visit to Cave Maona, full of stalactites and located a few kilometers below Montecatini Alto. Outside the cave, there are dancing for a holiday fun.
Useful information for tourists
Tourist Office
Viale Verdi, 66
Hours: Monday to Saturday 9:00 - 12:30 / 15:00 - 18:00
Phone: 0572 772 244
Funicular to Montecatini Alto
From April to October daily every 30 minutes.
Price: 5.00 euros including the return
Cave Maona
From April to October daily 9:00 - 12:00 / 14:00 - 18:00
Admission: 4.00 euros
Academy of Art
Viale Diaz
Collection of works of modern art and contemporary, historical and dedicated to Montecatini items donated by celebrities such as Verdi, who composed the Otello and perfected the score on the piano above.
From Monday to Saturday 15:00 - 18:00
Admission: Free
The content of the page is automatically translated.
Rate: 2.8 | Comments (0) | Write Comment