History of Pistoia, Art and Culture
Photo: History of Pistoia, Art and Culture
Advertising
Piazza del Duomo
Tourists can reach the whole medieval Piazza del Duomo through Via Cavour through Piazza della Sala , Where it keeps the market.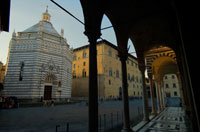 The square is so unusual compared to normal Italian squares: the baptistery, hidden in a recess side of the square, is built in Gothic style covered with bands of white and green. The Duomo di Pistoia is located opposite the baptistery, by putting on display a facade devoid of ornaments. The tourist is "forced" in this way to focus its attention on the bell tower and sull'enorme buildings surrounding the complex and well-decorated building in the City, which houses inside the Museo Civico and its collection of Tuscan art from the thirteenth to fourteenth century, and the Praetorian palace, once home to the mayor.
Unique is the breadth of the square, gives the impression that it was designed for a much larger city of Pistoia we know today. For centuries, Piazza del Duomo was the focus of civil and ecclesiastical power, with inside many buildings of merit such as:
The Cathedral of San Zeno, headed to San Zeno bishop, who keeps inside the silver altar of San Jacopo.
The bell tower, built on an ancient tower of Lombard origin, in Romanesque style, is divided into three orders of balconies and equipped with belfry with a cusp that because of earthquakes that flagellarono the city in late medieval era was rebuilt several times. Total reaches a height of 67 meters.
The Baptistery of San Giovanni in court the fourteenth century, Gothic style, with decorations in green and white marble.
The Palace of Bishops composed of porch, the first floor, in Gothic style and restored in 1981. The underground is enriched by a route important archaeological excavation site with a stele type of Etruscan Fiesole, a Roman furnace and stretches of the walls of Pistoriae. Not many years is open to the public and is a rare example of stratigraphic excavation of the museum.
The Praetorian Palace or the court, also in Gothic style (he lost in the interior part of his style because of extension works carried nell'Ottocento). It is famous for its courtyard with the coats of arms of judges.
The Palazzo del Comune, with a beautiful facade adorned with mullioned windows and triple.
The former church of Santa Maria Cavalier.
The Catilina tower, 30 meters high. .
Piazza del Duomo is not only religious and bureaucracy: once a year in fact, the square comes alive at most of the season most important Pistoia, the Dell'Orso carousel, the answer pistoiese medieval traditions of the Palio di Siena.
The content of the page is automatically translated.
Rate: 3.0 | Comments (0) | Write Comment